Electronic Wound Care Program for Podiatrists
Preferred Partner for Outsourced Podiatry Billing
Ready to Fulfill Wound Care Kits for Patients Electronically?
From Hippocratic Solutions
ELECTRONIC WOUND CARE PROGRAM FOR PODIATRISTS
Submitting wound care prescriptions in paper format can be a tedious, time-consuming, and uneconomical task for podiatrists. Hippocratic Solutions offers advanced Electronic Wound Care Program that streamlines the wound-care prescription process, improves revenue, and enhances patient care and satisfaction.
DISPENSE AND BILL FOR HIGH-QUALITY WOUND CARE SUPPLIES ELECTRONICALLY USING YOUR OWN DME LICENSE!
We handle everything from taking the order to supporting your patient.
ABOUT HIPPOCRATIC SOLUTIONS
An outsourced podiatry billing firm based in New Jersey, Hippocratic Solutions has extensive experience in helping podiatrists with wound care prescription management. Our Concierge Wound Care Solutions offers podiatry clinics a completely streamlined, hassle-free electronic wound-care prescription process-with no subscription required.
Electronic wound prescription – key benefits for podiatrists and patients
Podiatrists
Eliminates tedious paperwork, saves staff time and resources
Frees up time for patients
Reduces prescription mistakes and billing errors
Increases revenue and prevents claim denials
Enhances patient care and satisfaction
Patients
Avoid trips to the pharmacy or waiting in lines
Get supplies shipped home directly in a timely manner
At-home wound dressing increases likelihood of follow-through
Convenient and affordable
Cost savings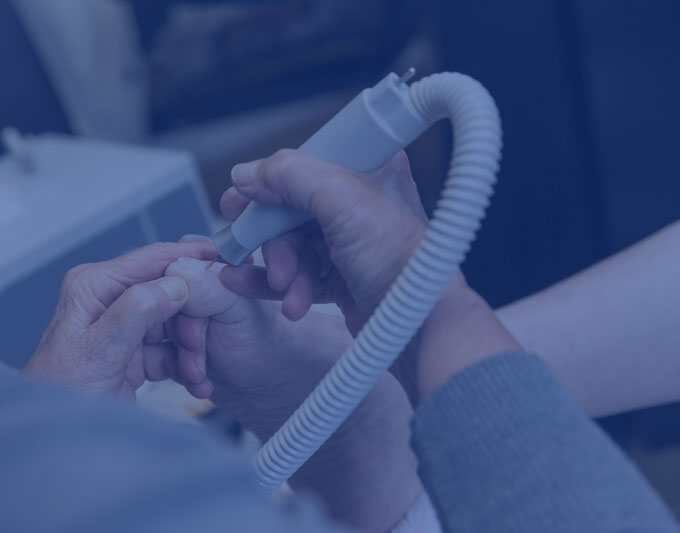 Services
We work with iRemedy to dispense wound care supplies. Podiatrists can prescribe, bill, and dispense advanced wound care supplies using their DME license.
Our services for podiatrists include
Handling of Claims
Insurance Verification
Wound Kit Assembly
Quick Shipping
100% Tracking Assurance
On-Call Service
Access to Online Portal With Chat Support
Process
Our Electronic Wound-Care Prescription Process
Sign up for our Wound Care Program
Fill out clinic and patient information electronically–once
Submit new orders and reorders as needed
Get your patients their wound care supplies FAST
Receive 100% of the revenue generated by wound care orders
Our partnership with iRemedy, a leading ecommerce medical supplies provider, allows us to manage all aspects of supply fulfillment and reimbursement for wound care solutions efficiently.
Once you submit your patients' wound care prescriptions online, we'll handle
Claims
Insurance verification
Wound care package preparation and
Shipping
Make your patients happy – wound care kits are quickly and conveniently delivered directly to each patient's front door.
TESTIMONIALS
MY CLAIMS ARE PROCESSED TIMELY
After working in a group setting for a few years, it became time for me to venture out as a solo practitioner. I had no experience with billing directly or dealing with insurance companies and that's where Hippocratic Solutions became my new best friend. Hippocratic Solutions took all my worries away and promptly enrolled me with all the major insurance carries. My claims are processed timely and by knowing the financial aspect of the business is under control, I am able to focus on patient care. I truly trust their knowledge and expertise. Hippocratic Solutions is a very valuable asset to me and my practice and I highly recommend them to any practitioner, established or new, to make them feel at ease when dealing with the insurance industry and knowing that their best interests are at heart.
Dr. Andrea Hunt, AMH Podiatry PLLC
HIGHLY RECOMMEND THEM TO OTHER GROUPS
As a practicing podiatrist for greater than 35 years, I have witnessed the changes in our industry become more complex and vexing. Making the switch from either in office billing or to another billing company is both an emotional and stressful task.Hippocratic Solutions lead by Peter Koukounas and his team of billing associates made the transition seamless. There was little or no perceptible lapse in accounts receivable. I have seen an increase in monthly collections and a substantial decrease in processing delays. The team is always ready to answer my questions or concerns. I am approaching our one year anniversary with Hippocratic Solutions and highly recommend them to other potential groups seeking a new biller. You will not be disappointed!
Helene Manno, DPM, Cliffside Park, New Jersey
Sign up for our Wound Care Program – it's Free! Earn 100% of revenue generated and improve your quality of care!
For more information, contact our podiatry billing company at (866) 305-3911 or send an email to [email protected].